Antigone Gyra
in collaboration with Aliki Avdelopoulou
DISTANCE A WAY OF LIVING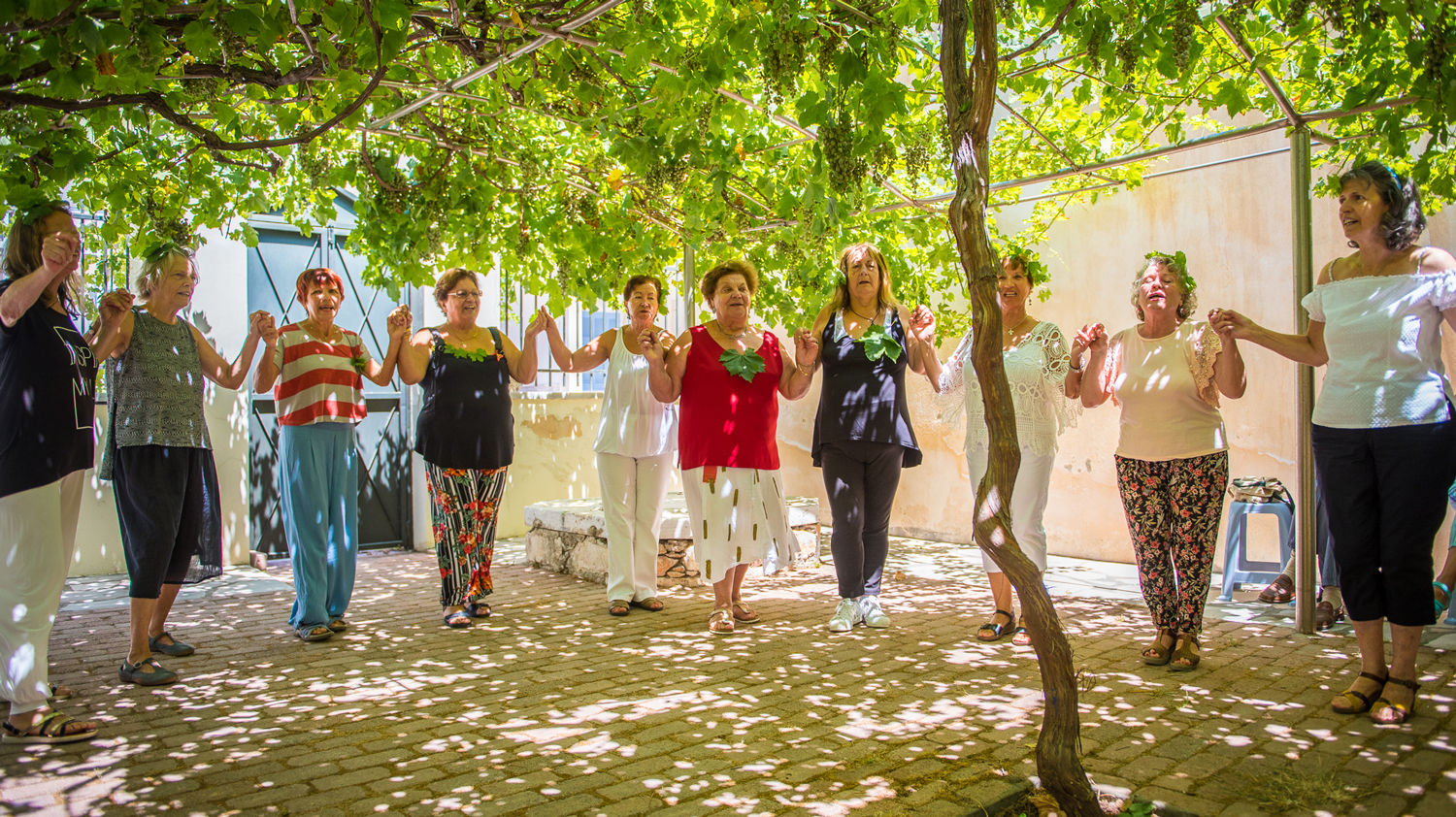 2nd WEEKEND (17-18/7) – 2nd WEEK (19-20/7) – 3 HOURS/DAY
10:00 – 13:00, "DE LA SALLE" SCHOOLS (ANDREA KARGA 12 – 14)
FREE
DISTANCE A WAY OF LIVING
Creative dance and singing workshop for people aged 65 plus
The workshop addressed to Syros KAPI group (Social Center for Elderly People) and Kinitiras Ω (Omega)- mature age- group. This workshop aims to begin collaboration, communication and sharing between these two groups and in the same time to set the stage for people of third age to be visible and social embodied through performing arts.
Elderly people are the group that was affected the most during the pandemic due to mandatory isolation and restriction in order to survive. Social and physical distancing this period of time doesn't mean abandonment but caring for themselves and others. This is not something easy to follow because socializing is in human nature.
In the workshop, following the necessary measures of protection, working in open space, we will bring in touch these two groups through exercises and games, having the idea of distance as the main theme for exploration. We will develop physical and expressive abilities of participants, share personal stories on the subjects of proximity and distance and will try to reverse our perspectives about what these ideas mean.
The workshop will be coordinated by Kinitiras' professionals, who in this period of time, unstoppable continue to meet and work with Kinitiras Ω group via zoom, in the framework of Antigone's Gyra research project "Contemporary Dance in third age: Social and pshychological effects. A study on Kinitiras Ω work". The research is supported by Greek Ministry of Culture.
Ages: 65+
Levels: All levels
Photo credit: Dimitris Parthimos
Kinitiras Omega group
Working with professionals from Kinitiras company, the group gained experience in co-creation, rehearsal and production by participating in artistic events and performances. So, in addition to the performances at the end of the year, the Kinitiras Omega group inspired the documentary KIN.O (Chrysanthi Badeka), traveled to Esslingen, Germany, to attend the stAGE festival where they presented the work of Eros and Psychi directed by Antigone Gyra and participated in Ana Sánchez-Colberg's Seven to Seventh Project at the Stavros Niarchos Foundation's Summer Nostos Festival.
Antigone Gyra
Antigone Gyra is the founder and artistic director of Kinitiras Network for Performing Arts (www.kinitiras.com). She graduated from the London Laban Centre with distinction and she was awarded the Graduates' Choreography award in 1993. In 1996 she created Kinitiras Dance Spectacle (Chorotheama) company with which she has choreographed many works up until today. She has also facilitated workshops and given lectures on dance and theatre subjects. Her works have been performed in Greece and abroad.
In the theatre she has cooperated as a choreographer and movement director with many theatre companies and directors such as : Theatro Technis (G. Lazanis), THOC( Ch. Siopachas), National Theatre (G. Theodosiadis, Efi Theodorou, S,Fasoulis), Theama Company, Dh.Pe.The Kalamatas (G. Kakleas), Theatre Porta (A. Kalogridis), Theatre Diana (G. Paloumpis – E. Rantou), Theatre of Herodus Atticus (S.Evangelatos)etc. Since 1993 she has been a movement teacher in drama schools and recently, she is teaching at Dilos Drama School. She has also taught choreography at the Greek department of Laban Centre (1994-1996) and at the Greek State School of Dance (2000-2002).
In December 2008 she funded, together with Vicky Adamou and Flora Kalomoiri, the first residency centre for performing arts in Greece, Kinitiras Studio which enabled hundreds of foreign and greek artists to their research until 2019.
Antigone designed the action EK PLIXI (Sur Prise) that brings dance in schools (www.ekplixi.com).
This season she curated a long residency in Switzerland at Lo Studio Guru with the general theme: Femininity in transition.
Aliki Avdelopoulou
She is a graduate of the Drama School of National Theater with a scholarship from National Scholarships Foundation.
She studied piano & music in National Music School, singing & phonetics with A. Leigh & M. Gementzaki & trained in a number of theatre & music courses.
She is co-founder of VIOMICHANIKI (theatre company) & LITHOGRAFION Theatre in Patras – Greece & former member of Organisation of Telecomunication of Greece mixed choir in Athens, participating in festivals & international competitions winning first place.
She has worked with theatre companies in Athens, Regional theatres & various artists (S. Evaggelatos, A. Antipas, E. Karaindrou S. Tsakiris, A. Gyra, V. Mirianthopoulos & others)
in theatrical plays, musical, dance theatre & theatre for kids as a performer, assistant director, assistant music composer, producer & voice trainer, in Greek & international festivals.
She is the singer of the music group MONITOR with a record label. She is participating in several bands & music productions, in many live concerts & festivals. ("Papercut", "End In Tears" – "GAD", opening for Parov Stellar & others).
She was the voice trainer at TV talent shows for kids (Music School MEGA – Junior Music Stars SKAI)
During the recent years, she is a member of Kinitiras Artistic Network for Performing Arts where she collaborates in various productions & educational programs in Greece & abroad.